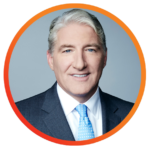 The AAPEX 2018 automotive aftermarket trade show gets underway in Las Vegas on Oct. 30th with a grand opening keynote session featuring CNN's John King and Political Strategist Karl Rove.
King, CNN's chief national correspondent and anchor of Inside Politics, and Rove, Political strategist, Fox News contributor, and Wall Street Journal columnist, will take the stage at AAPEX 2018 for the grand opening keynote, "Breakfast with John King and Karl Rove: How Trade and the Elections Could Impact the Aftermarket."
John King will discuss the upcoming mid-term elections and the impact the various outcomes could have on Washington, D.C.
Karl Rove will address how the global impact of President Donald Trump's imposed and proposed tariffs will affect the automotive aftermarket and U.S. businesses.
The keynote session will begin with a State of the Automotive Aftermarket Industry presentation by Bill Hanvey, president and CEO of the Auto Care Association, and Bill Long, president and chief operating office of the Automotive Aftermarket Suppliers Association (AASA). With more than 50 years of combined industry experience, Hanvey and Long will spotlight the trends and technologies that have the greatest impact on the industry today.
Visit the AAPEX Show website for details.