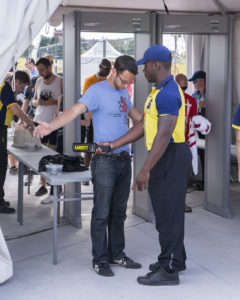 Charles and Eleanor Garrett began selling and marketing their company's first line of metal detectors in 1964. Today, Garrett Metal Detectors remains a world leader in metal detection technology, with exports accounting for more than half of its sales.
Now, after the passing of her husband in 2015, Eleanor is keeping the Garland, Texas-based company focused on quality and service. "The Garrett name has come to stand for more than metal detection; it is a philosophy for unparalleled customer satisfaction," she says. "We learned over the years that there is no price advantage program, special product feature or other promotional advantage that can replace a satisfied customer."
Those satisfied customers include companies in the security, military, and sports/hobby sectors. In fact, Garrett Metal Detectors is a leading supplier of walk-through, hand-held and ground search metal detection products, and training for security and law enforcement worldwide. From the Olympic Games to international airports, Garrett's commercial products are available in more than 120 countries.
Garrett's Recon Pro countermine detectors are also used worldwide to help countries with the removal of landmines and other unexploded ordinance that pose a danger to civilians and the environment.
In the sports/hobby market, Garrett's all-terrain metal detectors are popular with treasure hunters worldwide. The company's proprietary technology works for hunting coins, relics, caches, jewelry, and even gold nuggets.
"As Garrett moves forward in the 21st century," says Eleanor Garrett, "our mission is to continue the tradition of building and exporting great sport and security detectors for many generations to come."