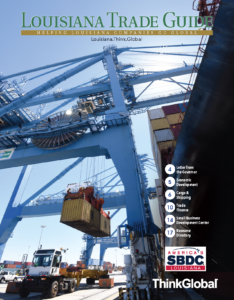 Online Edition Available at Louisiana.Think.Global
A free resource for Louisiana companies involved in international trade is now available online and in print from the Louisiana Small Business Development Center (LSBDC). The fourth edition of the Louisiana Trade Guide, published in partnership between the LSBDC and ThinkGlobal Inc., features statewide information and resources to help both exporters and foreign direct investors.
The colorful, magazine-style guide includes an international trade resources section that makes it easy to find resources and services providers throughout the state. The guide also features a welcome letter from Gov. John Bel Edwards, as well as an overview of international trade-related programs and services offered by Louisiana Economic Development.
"The Louisiana Small Business Development Center spearheaded the development of the new edition of the Louisiana Trade Guide," says Rande Kessler, state director of LSBDC. "Having a single point of reference in print and online guide is a valuable tool for Louisiana exporters, foreign investors, and service providers. The guide is a must-have resource for both new exporters and for companies looking to expand into new markets."
The new edition of the guide includes 10,000 print copies that are being distributed throughout Louisiana. The guide will be distributed to exporters throughout the state by the SBDC network, other state and local economic development agencies, and private sector service providers. Links to the digital edition also will be sent to U.S. embassies and consulates worldwide.
"The 2018 Louisiana Trade Guide includes an updated resource section, with comprehensive data about Louisiana service providers and trade-related resources," says Greg Sandler, publisher at ThinkGlobal. "The guide also features expert advice and answers to frequently asked questions, along with information about key resources, such as economic development organizations, ports, and other service providers throughout the state."
To read the Louisiana Trade Guide online, visit: http://Louisiana.Think.Global
Contacts For More Information
DeRon Talley, LSBDC
318-340-9353
dtalley@lsbdc.org
Greg Sandler, ThinkGlobal
800-581-8533, ext. 808
greg@thinkglobal.net
###